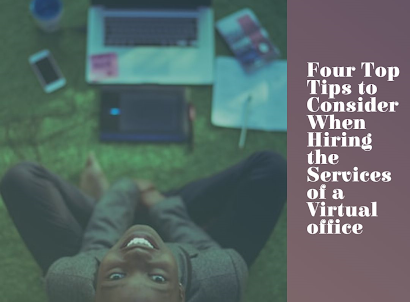 If you are running a home- based business, but need to reassure prospective clients that you are a serious professional operation, or starting a business on a tight budget, perhaps it is time you consider hiring the services of a virtual office
A virtual office provides the services of an office without the actual physical office space. If well managed, will give your clients the impression that you have a fully-fledged office of your own, when in reality you are simply hiring bits of services you need for a fraction of the cost. 
With a virtual office, your business has a professional address with mail-handling service included so you can take care of more important aspects of your business. In addition, you'll have a mail handling service that does the work for you.
However, it is important to take into consideration these four top tips in ensuring you achieve your goal in getting the best out of the virtual office service:
1. Flexible Options
Consider a virtual office service that allows you flexible and customised options. Do not tie yourself into a long contract, even if you are offered a discounted rate – the whole point about virtual offices is that they are a flexible option and your needs are likely to change as your business grows.
2.  Service Convenience
Some virtual office services are a lot better than others so make sure you thoroughly research your options first and try before you buy. Price should not be the overriding factor in making your decision.
Think about what services you are going to need and choose a firm that can offer all of them as it will be easier to manage that way.   
3.   Virtual Office Branding
It is important that your clients don't get an impression that you are using a side corner office – some sort of temporary informal makeshift unprofessional option.  A big sign outside saying "serviced offices" or "meeting rooms for hire" is definitely not going to give a good impression – the ideal option is a discreet, unbranded building at a good address which really does look like it could be a proper office block.   
4. Reception Courtesy
Your important clients may likely want to visit, drop in unannounced, or you may likely want to hire meeting rooms, it is important you visit the building yourself first and consider what initial impression it will make on your clients if they turn up for a meeting there.
In summary, it is a good idea to try and make customers as comfortable and confident as possible that they are making the right decision in choosing to do business with you- hence the need to consider all the above things before arriving at your virtual office service provider.
At The Resource Space we are always happy to answer any questions. If you're ready to get started, we can help with that too. Contact us to book your own virtual office space.